Get Involved
Volunteer with the Food Literacy Project!
 Volunteers play a critical role in fulfilling the Food Literacy Project's mission.Volunteering  is a fun and rewarding experience and a wide range of volunteer opportunities are available. Listed below are specific volunteer job descriptions; you may find your interests fit within one description or bridge a few of them.
To get involved, you can request a Volunteer Application by email at info@foodliteracyproject.org or contact our staff by phone at (502) 491-0072.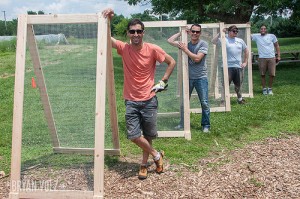 Farm-based Education Volunteer: We need volunteers support and help lead educational activities with students on the farm. Activities include planting seeds, exploring worm compost, preparing freshly harvested food, playing educational games, and leading tasting tours of the farm. Volunteers are needed Tuesdays-Thursdays, March through November.
Garden Volunteer: Although our program site is located among vegetable fields, we maintain a garden to expose participants to a wide variety of vegetables in a small area. Volunteers will help prepare beds, plant, mulch, weed, and water. Occasionally we also need help with light landscaping and maintenance projects. Volunteers are needed the second Saturday of every month, March through November.
Creative Media Volunteer: Put your photography and video skills to use helping us document our education programs and special events. Needed weekdays and some weekends March-November.
Special Project Volunteer: We need volunteers with special skills that can be put to use to further our mission and enhance our work. Projects will be determined on an individual, as needed basis. But if you have something in mind, let us know! We are always looking for folks who can help with web design, construction projects, fundraising, etc. Time commitment is flexible and will be determined by the project.
Want to Donate Valuable Resources?
Our Field-to-Fork Program on the farm provides transformative experiences for nearly 3000 students each year, which means we use a lot of resources! To keep our Learning Garden, Outdoor Kitchen, and program area clean and safe, there are items we are needing to be replenished throughout the program season, including gently used or new garden tools, kitchen items, and cleaning supplies.
If you or your group are looking to support a local cause through a supply drive or resource donation, please see the list below for ways you can give back to the Food Literacy Project!
Paper towels




Sponges




50-gallon trash bags




New outdoor vinyl tablecloths




Picnic blankets




Dishwashing soap (biodegradable preferred)

Metal forks and butter knives

Half-sheet baking pans




Wire brushes and cleaning solution for oven




Flexible cutting mats

Propane




Rectangular two-string

 hay bales

Mason jars of all sizes (with or without lids)

Kid-friendly knives (like 

these

)

Plastic reusable cups (like 

these

)
Garden/Farm 
Trowels

Garden snips

Garden gloves for children

Garden hoses (the kind you can drive over)

Hose nozzle

Steel T-posts

Garden twine

Watering cans

Seed flats/trays

Seeds (organic)

Wooden pallets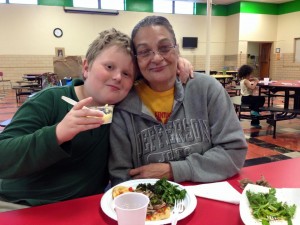 The Food Literacy Project is a 501(c)3 nonprofit education organization that uses an urban farm as an outdoor classroom to engage young people and families in hands-on learning. Your gifts will help bring the field-to-fork experience to life for local youth!
www.foodliteracyproject.org   |   (502) 491-0072